Fun & Sporty Team Building Activities for Singapore
Get to know your colleagues better
Getting to know your teammates in the office can make work much more fun! Especially since you spend many hours with these people, it'll be nice to know them on a deeper and personal level. This is where team building activities come into play. Interact with your colleagues outside of the office and play together! Of course, the only objective for team bonding activities is to work together while having fun. However, we believe team building activities can be a bit bland or repetitive in Singapore. The usual suspects are dinners, karaoke sessions or a night out at the bar. Why not try something more fun and active like sports? With Decathlon's affordable sports equipment and discounts for corporate purchases, it won't be a costly investment for team cohesions or bonding activities.
Planning team building activities can be tedious and most think that Singapore is too small to have 'fun' activities. Fortunately, we've made it easier for you and your work mates by listing down some sporty ideas for team bonding!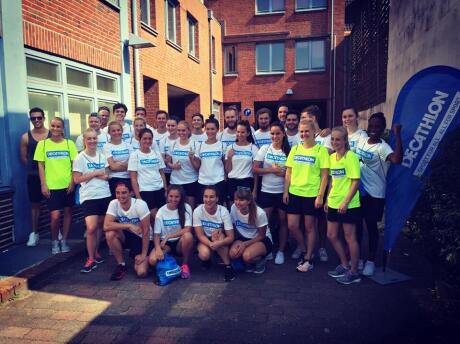 Sports are great for fostering rapport and teamwork
Activities like team sports and physical games are great at cultivating team spirit and deepening relationships. Sweating it out together not only improves your health but also encourages colleagues to look our for each other and cheer one another on. Plus, all you need is some simple sports equipment and everyone can join in the fun for exciting team bonding activities.
Read on to find out some ideas we have that can be simply executed without compromising on the fun factor! Plus, with our corporate purchase discount, you'll get to save some budget for your team building activities!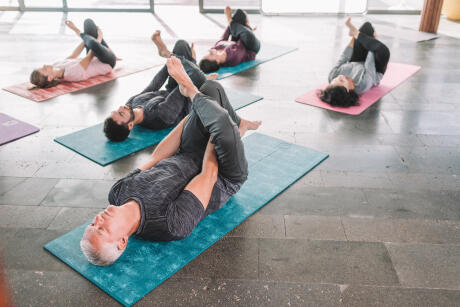 For a relaxing and zen team building activity, we recommend trying out yoga together as a group. Yoga not only helps with your physicality but also with internal reflection mentally. We believe a yoga session can help clear your mind after a long day at work and why not try it out with your colleagues?
For this activity, you will need yoga mats, comfortable attire and a space big enough for your group. Alternatively, you can join Decathlon's free sports events at our Singapore Lab store together as a team, just don't forget to bring your mats (which you can purchase in bulk at a corporate discount).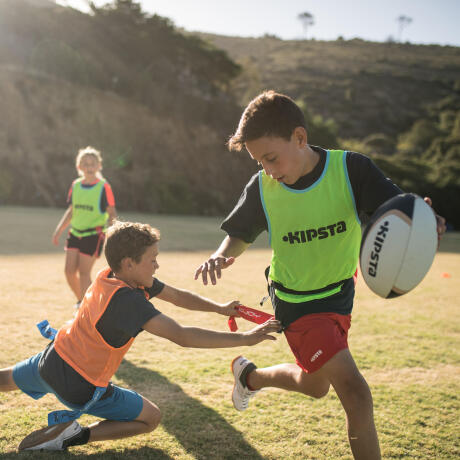 Football may be the most popular sport in Asia and arguably the world but rugby has been gaining popularity in this region, especially since Japan hosted the last Rugby World Cup in 2019. Many view it as a brutal and violent sport but it is mostly safe with proper rules put in place. There are also non-contact versions of the sport which makes it safe for all to play. Non-contact rugby would be a great team bonding activity as the sport fosters teamwork and some friendly competition. 
For the non-contact version, you can use flag belts which would be attached (by velcro) to your waist. So instead of aiming to tackle a person on the opposing team, you simply have to grab the flag on their belt to switch play. Thus, all you will need are flag belts and rugby balls to get a game going. 

A team that works out together, works better together! Circuit training is a great activity to do in a group and is used as training by sports teams across the world. It helps train cardio and also build muscle depending on the exercises included. Plus, you don't have to purchase much equipment to form a circuit, thanks to the rotation of groups.
At Decathlon, we have equipment such as training step ladders, cones and hurdles which you can use to create exercises. With the amount of exercises out there which require little to no equipment, the possibilities for your circuit training activity are almost endless. To spice things up, groups can compete with each other based on timings or the highest number of reps for each exercise!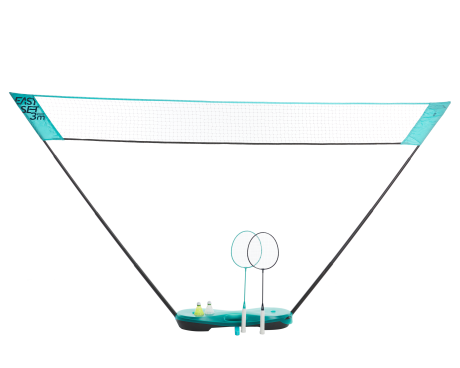 Arguably one of Singapore's favourite sports, badminton is loved and played by many. It is an easy sport to pick up and was mostly taught as part of PE classes since we were young. What's great is that you can also play it in pairs like other racket games such as tennis and table tennis. However, you must be thinking 'wouldn't badminton be difficult to set up because you would need a court with nets'? Well, you're right but Decathlon has found a workaround to that issue.
We have the Easy Net which is a portable net with its own stand. This means you can literally set up your badminton game at any area that has sufficient space (and proper permissions as well). You can get our Easy Set which includes an Easy Set with two badminton rackets at a great price.
Chuck away ideas for group dinners or karaoke sessions the next time your company plans teambuilding activities in Singapore! Opt for something a little more active and sporty to get to know your colleagues better. Choose from the ideas we have above and contact us below to make corporate purchases of our sports products at discounted prices! 
* The prices listed on the site are the prices recommended by DECATHLON SA's central purchasing department.