Scenic Cycling Routes in Singapore: Punggol Waterway Park
Did you know that Punggol is actually host to urban design and sustainable development? It also consists of a 4.2km long body of water that serves as a canal, reservoir and recreational facility – let's explore this picturesque spot by bike!
How to go to Punggol Waterway Park (Public Transport)
From Punggol MRT station, take the LRT line to Damai LRT station. From Damai LRT station, walk towards Punggol Road to find the path to Punggol Waterway Park.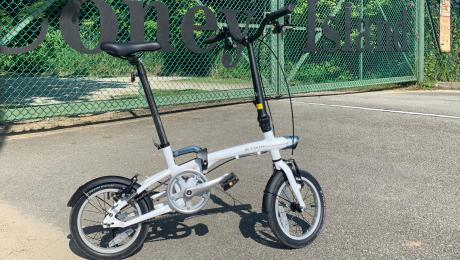 Before you start this activity, you will need the following equipment:
- Bicycle
- Helmet
- Covered shoes (recommended)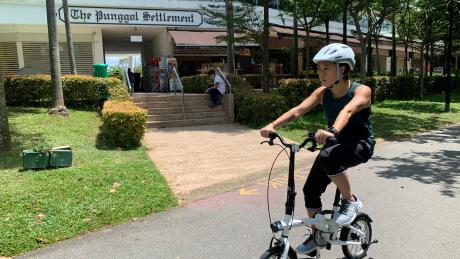 Punggol Settlement is a cluster of restaurants and shops facing the northeastern shore of Singapore,accessible via Punggol Point Road. There are bicycle rental kiosks nearby should you need to rent one, though we brought our own: a Tilt 500 XS folding bike which fit nicely into the trunk of our car with room to spare! We found this spot ideal as a starting point thanks to the abundant parking as well as a convenience store. 

With Punggol Waterway being more or less a loop, we decided on a counter-clockwise direction as we wanted to see the seaside first. We didn't have to wait long, as we encountered Punggol Point Jetty within the first 5 minutes of pedalling. It has a rather sombre history as one of the infamous Sook Ching massacre sites during the second world war, but none of that was evident during this sunny day as we looked out at the passing ships.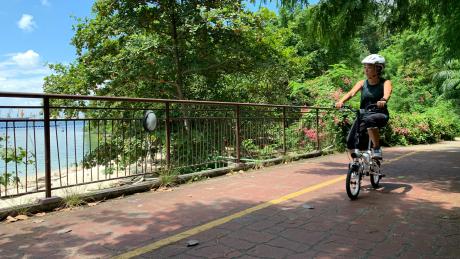 Moving along, we started to see blocks of future HDBs towering above us on the left, under construction and ready to house new generations of young Singaporeans. Aptly named Northshore Cove, this area faces a small sandy cove on the north shore of Singapore, with the industrial skyline of Pasir Gudang in neighbouring Johor a faint outline in the distance. The path itself is well shaded by overhanging branches, providing a welcome respite from the midday sun.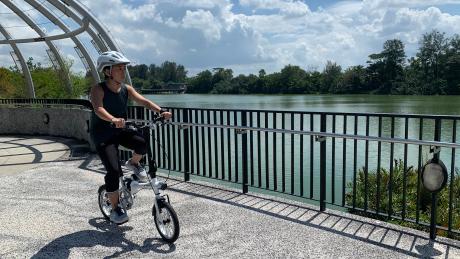 We headed further down south, passing by the Marina Country Club Jetty. Soon, we came upon the Jewel Bridge, probably one of the more unique structures in the area with an avant-garde cage-like structure built in the middle. With tranquil mangroves on one side, and canyon-like apartments towering over the canal on the other, the Jewel Bridge serves as a popular selfie spot especially during sunsets.
Waterway Terraces & Otters!
We threaded our way eastwards along the canal, and saw a family of otters frolicking in the nearby shallows! Mama otter was munching on what appeared to be a freshly caught catfish, while the babies played nearby. It was really the highlight of this part of the ride, and we couldn't help but be impressed by the fact that town planners had managed to seamlessly meld high-density urban housing with marine ecology.
Moving further down, we could see Waterway Point across the canal when the path started to curve to the left. We passed by the Therapeutic Garden on our left – a network of walkways embedded with smooth pebbles that's designed to massage your feet as you walk over them barefoot. Curving right, we spotted the Adventure Bridge, one of many bridges spanning the waterway, and decided to cross it and continue exploring the canal from the other side.
After the Adventure Bridge, we passed by the SAFRA clubhouse, another terrace-inspired building that houses gyms, restaurants, shops and various sporting facilities. Next, we passed the quaintly-named Kelong Bridge, meaning that we were nearing Edgefield Plains estate and our next landmark, the Wave Bridge, just outside Oasis Terraces mall. Dutifully, we dismounted our bikes and pushed across as foot traffic was heavier than expected for that time of day. We did get a good view of the canal leading out to the reservoir and Coney Island beyond it though.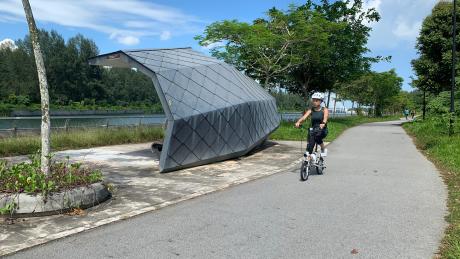 Punggol Promenade Nature Walk
This last section via Punggol Promenade Nature Walk was a little more rustic than the rest, probably due to the fact that the area was still under development. Still, we did enjoy the natural beauty of the surrounding mangroves and mudflats. The path curved left again, bringing us to the home stretch that would take us alongside the reservoir and Coney Island on our right. Along the way, we passed some rather unique looking observation shelters whose surface rather reminded us of the scales of a fish. Punggol Settlement was now only a few minutes away - we glanced at our fitness tracker - we had completed close to 8km, no doubt thanks to a few unintended detours!
That concludes our guide to Punggol Waterway Park, and we hope you found it useful! If you enjoyed this guide, click below to explore more similar articles, both on places to explore as well as various cycling-related tips and tricks.
* The prices listed on the site are the prices recommended by DECATHLON SA's central purchasing department.