3 Family-Friendly Sports at Home
Who said sports required the outdoors? Check out three sports you can play at home with
the whole fam AND why you should be doing them – stat!
Never knew darts was a sport? Now you do! What's more, it's got these benefits that you might be surprised to know of:
 
- Improves your concentration
From concentrating on each of your throws, to keeping in mind the score or staying on your toes for the next best solution, this is one game that will keep your mind sharp and focused at home. Great for the kids!
- Improves hand-eye coordination
Don't underestimate this important skill. Hand-eye coordination is the key to sporting performance for most – if not all – sports! Playing darts is a perfect low-intensity sport for younger players to sharpen their reflexes, and older ones to prevent natural deterioration of hand-eye coordination over the years. 
- Relieves stress
Playing darts requires you to maintain higher levels of focus and concentration. As such, this prevents you from dwelling on other negative thoughts and feelings that you may be harbouring. P.S. Keep a positive attitude, and you might be surprised at the results while playing darts!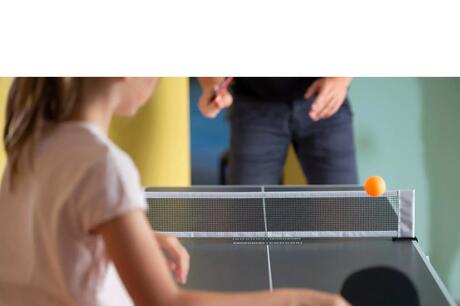 This racket sport is familiar with many, and popular for good reason! If you haven't already known, table tennis offers these benefits:
 
- Easy on the joints
If you've ever had knee surgery, back problems, or weak ankles from years of sports – we feel ya. But there's no need to feel hindered by these injuries anymore with this sport, as it's a great way to improve your leg, arm and core strength without overtaxing your joints.
- Burns calories
Who doesn't take satisfaction in the pairing of these two words? Feed on these stats: A 70kg person can burn 272 calories by playing table tennis for an hour. Let's get batting!
In doubt of a table tennis table fitting into your home? Check out Decathlon's miniature, eco-friendly and portable table tennis tables below.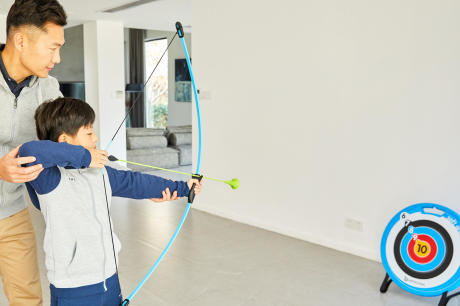 Although uncommonly practiced, you're bound to want to pick up archery after knowing these fun facts:
- Builds strength
This seemingly simple act of drawing a bow actually puts tension in the chest, hands, arm, upper back muscles and requires short bursts of energy from your core muscles. Continuous repetition of this movement (given that form is correct) helps to strengthen these tissues.
- Trains patience
Got a restless youngster at home? Archery's a great way to keep 'em pacified. While it's fun to play, grasping the right technique for the sport requires repetition, which takes patience and determination. Junior's sure to calm down after this! 
- Does not discriminate
Old or young, able bodied or not – archery is one game that all can play, which makes this activity all the more perfect for the whole family!
Didn't know you could practice archery at home? Check out Decathlon's soft archery range below!
Now that you've got these ideas at your fingertips, it's time to get moving at home! 
* The prices listed on the site are the prices recommended by DECATHLON SA's central purchasing department.