6 Home Trainer Workouts for Cyclists
As much as us cyclists like to be outdoors breathing fresh air with the wind in our hair and sun on our skin, sometimes we have to stay indoors, due to various factors be it time constraints, bad weather, or other reasons. This is why it's useful for cyclists to keep a home trainer (also known as a turbo trainer) handy for such occasions. If you've got a home trainer, we'd like to share some tips with you on some effective workouts you can perform in the comfort of your own living room. P.S. If you haven't gotten a home trainer, do so ASAP!  
Introduction: The Workouts
The workouts below will target different fitness goals you might have as a cyclist.
Speed ​​and Coordination - The ability to pedal quickly and in rhythm
Power - Increasing the energy you apply to your bike
Acceleration - Turning your power into speed
Aerobic threshold - Increasing your efficiency and endurance
Anaerobic threshold - Increasing your ability to sustain intense efforts
Equipment you will need to get started
Before starting, lets check out the equipment and accessories we will need to perform these workouts:
1. Bike
Obviously, you will need your bike! Smooth tires are preferred to interface better with the home trainer.
2. Home Trainer
In this article, we will be using the B'twin In'Ride 100 home trainer.
3. Front Wheel Riser
A purpose-made riser is more stable and prevents your front wheel from twisting. Alternatively? Use an old phone book!
4. Trainer Mat
A foam mat to protect your floor so as to reduce vibration and noise (keeping your family members sane!). Pro-tip: B'twin sells trainer mats – though an old yoga mat will do.
5. Sweat Catcher
Protect your bike's paint! Sweat is actually highly corrosive on metal. Pro-tip: The B'twin sweat catcher's storage pouch doubles up as a handlebar bottle holder too!
6. Heart Rate Monitor
Some of the workouts listed below will require you to exercise at a certain percentage of your Maximum Heart Rate. You will need a heart rate monitor to measure your heart rate, both before and during the workout.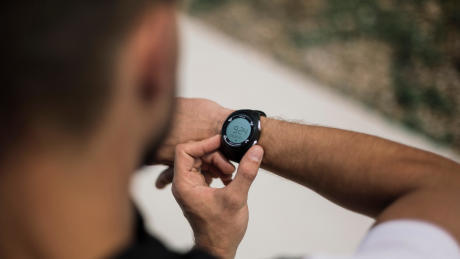 Find your Maximum Heart Rate
After a 10-15 minute warm-up, ride as hard as possible for 10 minutes (similar to an intensive time trial pace).
Ride the final minute as hard as possible and sprint for the last 20 seconds.
This should produce a maximum heart rate reading.
Keep pedalling and wind down gradually for 10 minutes.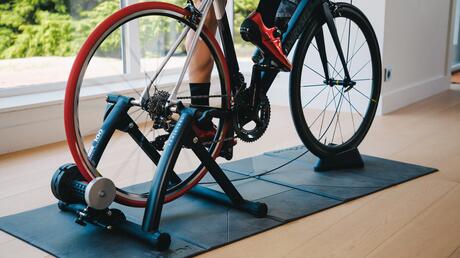 Start with a 10-minute warm-up.
Repeat this exercise three times while gradually increasing the pedal frequency:
- 10 min at 80 to 110 RPM + 2 min recovery 
- 10 min at 90 to 120 RPM + 2 min recovery 
- 10 min at 100 RPM to your maximum frequency (140-160 RPM)   
Relax for 10 min

The objective here is to drive a high gear with a high resistance. The pedal rhythm should not exceed 50 RPM and you should not get out of breath (70% - 80% of MHR).
- Warm up 10 min
- 5 min force 50 RPM 
- 2 min recovery 
- 5 min force 50 RPM
Relax for 10 min
WARM-UP
 - 15 mins easy at 90-100rpm
MAIN SET
- 30 mins moderate 
* Every 4:40mins do short intervals out of the saddle for 20 secs max effort 
COOL-DOWN
- 15 mins easy at 90-100rpm
Duration: 60 minutes
- Warm up for 15 minutes
- 10 minutes at 90-100rpm x 3 (with 5 minutes rest)
- Warm down for 15 minutes
Pro-tip: Try and keep pedalling smooth and circular – make sure you are not bouncing off the saddle!
- Warm up for 10 min
- 45 min intervals of 1 - 3 min at between 70% to 90% of MHR
* Recovery times between intervals should be the same as the effort phases
- 3 min at up to 80% of MHR + 3 min recovery; 10 times in a row
10 min rest break
Training at home on your bike can be fun and challenging – we hope you found this article helpful and look forward to seeing you meet your cycling performance goals!
Check out Decathlon's website for more home trainers & accessories below.
* The prices listed on the site are the prices recommended by DECATHLON SA's central purchasing department.