Scenic Cycling Routes in                                                                           Singapore: Coney Island
Let us take you on a journey to discover one of Singapore's hidden gems in the northeast – Coney Island! Otherwise known as Pulau Serangoon, this 100-hectare island was bought by a businessman in the 1950s with the intention of turning it into a resort. The government then bought it back in the 1970s, intent on keeping its recreational purpose intact. However, after many years of plans changing, it is now managed by Nparks and connected to the main island via 2 narrow dams, serving an additional purpose as a reservoir. We recommend it as one of our favourite cycling routes in Singapore!
Don't have your own bicycle but still wish to explore Coney Island by bike? Fret not, as there are bike rentals available at Punggol Settlement. Take bus 84 from Punggol Bus Interchange to Punggol Point Park/Punggol Settlement. The bike rental shop is at the east end of Punggol Settlement.
Before you start this activity, you will need the following equipment:
- Bicycle
- Helmet
- Covered shoes (recommended)
- Bottle (recommended during hot weather)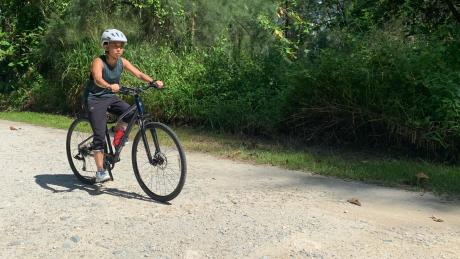 Coney Island has 2 entrances: an East entrance accessible via Lorong Halus in Pasir Ris, and a West entrance accessible by Punggol Promenade PCN if you're cycling (or New Punggol Road if you're driving and parking).
We decided to enter via the West entrance as we had parked at the nearby Punggol Settlement – a cluster of restaurants & shops facing the northeastern shore of Singapore. Immediately, we were greeted by a long stretch of gravel road designated as a cycling path, which is the main accessway of the island.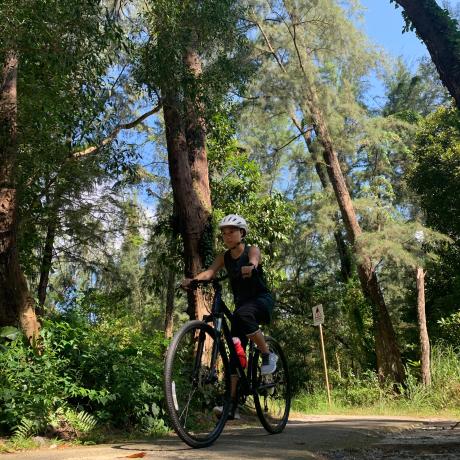 After approximately 2.5km of riding along the gravel path, you would have reached the East end of Coney Island.
We decided to turn left before the exit and venture along the northern coast of the island.
There are quite a number of junctions here, so we recommend keeping as close to the northern shore as possible.
Enjoy the serenity of riding along the winding path surrounded by 100 foot tall Casuarina trees blowing gently in the sea breeze here.
*Do note that some sections will be a little jarring due to the bumpy nature of the path, so do be prepared! If at any point the unevenness of the path starts to bump you off the saddle, there is no shame in getting off the bike and walking!

After some time navigating along the coast, we were rewarded with a slightly secluded and shady beach area – this particular one is simply known as Coney Island Beach.
There are two other accessible beach areas along the coastline, and we've even heard of some secret spots that are slightly hidden from view, but didn't have the time to look for.
If you do manage to find the hidden beach, do let us know! All the same, we took the opportunity to sit by the shore for a while, looking out at the beautiful turquoise water.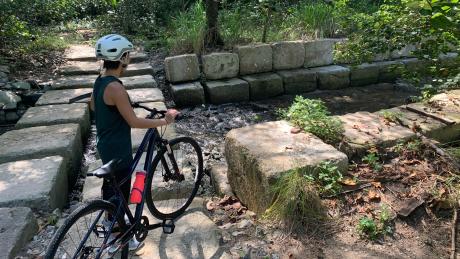 On the way back westwards, we came across a stream of fresh water heading out to sea.
Most likely, it was serving as an overflow outlet for Serangoon Reservoir.
This is yet another great example of blending public infrastructure with nature!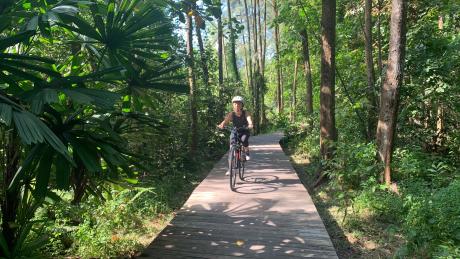 As the coastal path did not continuously lead back to the West entrance, we rode back towards the main gravel path.
This particular stretch was a pleasant ride along a raised wooden boardwalk across a mangrove.
The boardwalk not only makes it easier to traverse this section, but protects the mangrove from the damage of being tread or rolled on otherwise.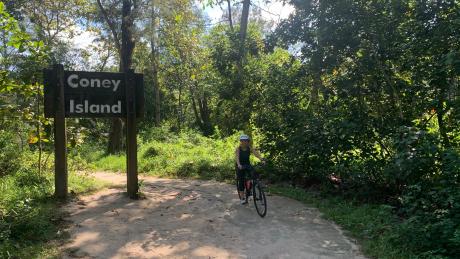 After cycling a short distance along the gravel path, we decided on another detour to Beach Area A – a slightly smaller beach as compared to Coney Island Beach.
On the way out, we took a mandatory shot of the Coney Island signage!
And that wraps up our quick tour of Coney Island! We hope this guide makes your exploration slightly easier, but not to worry, you can't get lost as the island is simply too small! If you enjoyed this article, feel free to check out more cycling related articles by clicking the link below.
* The prices listed on the site are the prices recommended by DECATHLON SA's central purchasing department.