HOW TO MAINTAIN YOUR SPORTSWEAR
When it comes to sweaters, you have to take the utmost care so that darker shades don't mix up the colour with the lighter shades. 
Then how about your sports attire ? Are you taking care of them? 
You are sweating on it , It absorbs all the dead cells from your body when you workout. 
Henceforth there is a brief understanding on how to maintain your attire. 
No. 1: WASHING YOUR SPORTSWEAR
GOOD GESTURES ON RETURNING SPORT
Do you tend to put your sports gear aside… while waiting for the next machine? Bad idea ! The more you leave your dirty socks, your sports bra or your legging lying around, the more bad smells develop and the more difficult it will be to get rid of them! So, we roll up our sleeves and put our sports clothes directly in the washing machine .
Can't wash them immediately? Hang your clothes on a washing line or on hangers and put them outside, in the fresh air, if possible. But above all, we do not leave them in a ball in the basket or at the bottom of the bag, we dry them!
WASHING MACHINE
If you opt for machine washing, take some precautions for your sports stuff. Synthetic materials such as lycra, polyester or elastane are very sensitive. To avoid damaging your sports clothes, the cycle must not exceed 30 ° C . We forget the excessive temperatures! Remember to turn your clothes inside out to extend their life. And do not add fabric softener, it affects the effectiveness of technical clothing.
HAND WASHING
Are you more like an "old fashioned" team? Here are the steps to follow to properly clean your fitness outfit:
- Pour 2L of warm water with half a cap of detergent.
- Add the juice of a lemon and mix.
- Let the clothes soak for a quarter of an hour.
- Rub, with a soft brush, the parts that most smell of perspiration (armpit, back, neck).
- Rinse and then hang up the clothes to dry them outside if possible.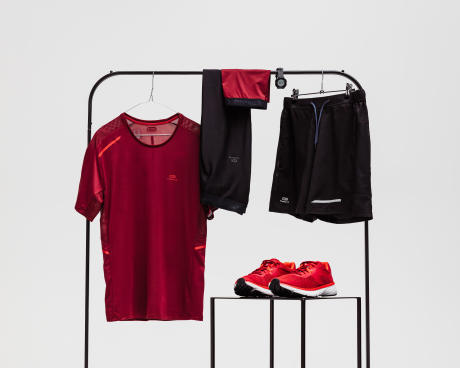 HOW TO REMOVE THE SWELLING ODOR ON CLOTHING?
Modern synthetic fitness clothing has the advantage of keeping you dry during your training. Unfortunately, they also tend to favor unpleasant odors… Does your sporting goods still smell bad despite going through the machine? Do not panic, there are many solutions to remove the smell of perspiration on clothing  :
- Baking soda  : it is a formidable weapon against the proliferation of bacteria! Mix 2 tablespoons of the product with water to form a paste. Apply it on the garment, let it dry and then machine wash.
- White vinegar  : mix ¼ of the product and ¾ of water then immerse your things in the bowl. This little bath should do them good.
The best of the best? In addition to being very effective, these products are natural!
DRYING AND IRONING OF SPORTS AFFAIRS
Polyamide or polyester technical clothing has the advantage of drying very quickly in the open air. Avoid the tumble dryer , as the fibers will not withstand such temperatures. 
Finally, last advice: don't iron your sports gear, they don't need it. We keep the iron for the clothes of everyday life!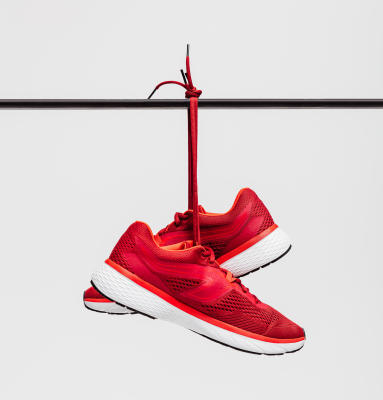 No. 2: CLEANING YOUR SPORTS SHOES
Yes, it is not only your sportswear that must be regularly maintained. So even if we tend to forget it, regular cleaning of sports shoes is essential to avoid the proliferation of bacteria . 
Two parts are generally concerned:
- Outside : use a soft brush, water and soap to clean the canvas of the shoe. The baking soda is formidable to restore radiance to the soles!
- The interior : most models have a sockliner. If so, wash it in a bowl or machine. Once a week, sprinkle the inside of the sports basket with baking soda . Very effective in neutralizing odors!
After washing your sports shoes, dry them by placing them near a heat source.
* The prices listed on the site are the prices recommended by DECATHLON SA's central purchasing department.