Yoga: Our Eco-Designed Products
In yoga prana (vital principle), we breathe in clean air and energy deeply to build a deeper connection with the environment. This exchange of good energy builds greater respect for our environment, makes us want to make better choices that allow the world to be a more sustainable and livable place for everyone. 
At Decathlon, this vision ties in beautifully with our purpose, as we believe in preserving the planet and its population to make sports more accessible to everyone.
In here, we introduce some of the eco-designed products we have today:
Our Organic Cotton Products
Our organic cotton is grown without the use of chemicals. We choose organic farming methods that have been specifically designed to reduce the impact on the environment. It helps preserve biodiversity and soil fertility, and reduces the risk of polluting groundwater tables. Here are some of our products that are made out of Decathlon-sourced Organic Cotton!
Browse Through Our Organic Cotton Range
Our Yoga Meditation Zafu and Bolsters are made by stuffing an outer cover (made out of 100% organic cotton) with recycled filling! They were previously filled with harvested organic cotton, but we realised that there were many Indian factories that produced tons of wasted cotton fabric scraps. Therefore, we decided to do a swap - to reuse what was already produced instead of turning to harvest more. 
In our filling, we use shredded recycled cotton fabric scraps without compromising on the softness of our bolster and cushion. If you want to improve or adjust the softness, simply remove the recycled filling and puff it up a little more.
Our Natural Rubber Products
Our Travel Mat is made out of 100% natural rubber- creating these mats has less impact to our environment. Rubber trees are known to be sustainable crops that also helps to regulate the oxygen levels in our atmosphere! Rubber is also the best material for grip - so if you need a really grippy mat that doesn't slip, choose natural rubber and care for the planet at the same time!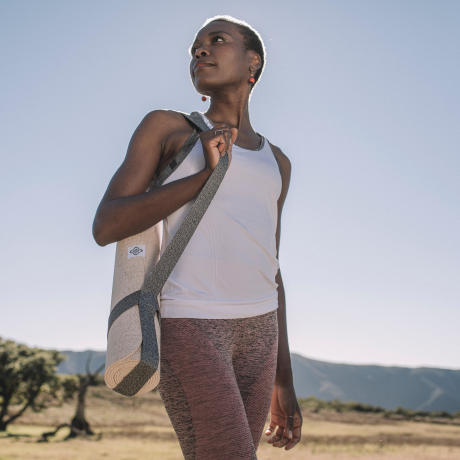 Our Jute Mat is also made out of 100% natural rubber, but it's mixed with a blend of Jute (Jute is a form of vegetable fibre). Similar to the Travel Mat, our entire mat is able to be recycled and biodegradable! The mat also has a subtle smell of Jute, so it really smells like grass, which is quite nice in your practice!
Our Natural Cork Products
The Cork Brick is also a sustainably designed item. Cork is a soft, renewable, and biodegradable material, and so after many years of use it can be easily brought back to the planet with very little impacts.
Today, we have about 30% of our products in the Yoga range that are eco-designed - and we aim that 100% of our products in 2026 are eco-designed. Stay tuned to new, more eco-friendly products in the future!
Other than our products, we also want to aim to run our stores and warehouses by 100% renewable electricity by 2026, and support our industrial partners. We hope that through committed steps, we will be able to protect our planet for our future generations.
* The prices listed on the site are the prices recommended by DECATHLON SA's central purchasing department.