HOW TO CHOOSE YOUR SWIMMING GOGGLES?
Are you a new swimmer looking to pick your first goggles? Or are you an advanced swimmer looking to replace your old pair with new goggles? Either way, making the right decision when choosing your goggles is essential as it will have an impact on how comfortable you feel when swimming! Goggles help you see in the water but it also protects your eyes. Lasting anti-fog treatment, comfort and field of vision are all important advantages!
Thinking of where to buy swimming goggles in Singapore without breaking the bank? With Nabaiji, find the swimming goggles that gives great value and fit you best!
When choosing your swimming googles, try to take into account the following criteria:

Training frequency & level or type of swimming
In Nabaiji, we differentiate between three levels: beginner, intermediate and advanced.
Beginner
Swimming goggles for beginner swimmers have been designed for comfort and easy adjustment (with straps or notched nose bridges). If you want a wider field of vision, you can also opt for a swimming mask.
With medium stability, beginner goggles offer a panoramic field of vision so that you can see everything happening around you and feel at ease.
Intermediate
Swimming goggles for regular use are designed with a more flexible nose bridge and a narrower field of vision. They are as easy as the beginner goggles to adjust but offer greater stability when swimming. If you prefer masks to goggles, there are also swimming masks with the same characteristics!
Advanced
Goggles for advanced swimmers are designed for a perfect hold on the face, a precise field of vision and great stability when swimming. They are hydrodynamic and ideal to help you reach your performance goals. There are two types of adjustment. Some goggles have removable nose bridges, so you can choose the one that suits your face best. However, "Swedish" type goggles must be set up yourself by adjusting the strap and the nose bridge so that the goggles are perfectly adapted to your face. These are meant for extreme comfort and ultra clear vision.

Our beginner and intermediate swimming goggles come in 2 sizes: Size S and L.
Size S is for children or adult with smaller size of face. Size L is for children or adult with bigger size of face.
There is only one size for our advanced swimming goggles. They include different adjustment systems to fit every face shape.
Here is a very simple test to help you choose the size of your goggles:
1. Place the goggles over your eyes and press, but don't put the strap around your head.
2. If the goggles "stick" to your face and remain in place, they are the right size and won't let in any water. If not, they are too big or too small depending on the areas they lose contact with the skin and they also might feel a bit uncomfortable. Try another size!
3. Then adjust the goggles at the strap and nose bridge. Don't pull them too tight, in order to avoid injury but do ensure that water cannot get in under the lenses.

In swimming pools with low brightness, clear lenses allow you to see perfectly while swimming.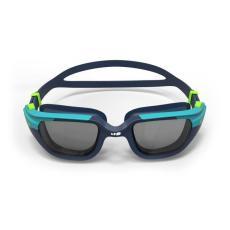 If you are swimming in a bright swimming pool, it is good to wear smoked lenses as it will soften the brightness and offer better viewing comfort.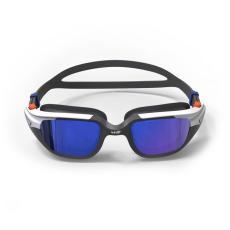 If you swim outdoor or in a swimming pool brighter than average, wearing mirrored lenses is the best choice.
Now that you know what to look out for when choosing your swimming goggles, browse Decathlon's selection of goggles! We have swimming goggles for kids, men and women of different ages. You might also be interested in our swimsuits, floats and swimming accessories to enhance your performance!
Now that you know everything, grab your goggles and dive in ;)
Digital Sport Leader - Swimming
Passionate about swimming, I like challenging myself and trying new water sports.
Swimming is the perfect sport as it helps me to cool down after a warm day ;)
* The prices listed on the site are the prices recommended by DECATHLON SA's central purchasing department.