Scenic Cycling Routes in Singapore: Mandai Loop
For those familiar with the road cycling scene in Singapore, the Mandai "Loop" is probably one of the most popular routes. However, for leisure cyclists, this cycling trail is slight more obscure and unknown. You may only know Mandai for the Singapore Zoo and the River Safari but there's certainly more to this area than meets the eye. Centrally located, with sparse traffic on a good day and somewhat picturesque, it's no surprise why local cyclists choose this 35km closed loop as their preferred route. If you have not tried it before and are curious to do so, join us on a virtual tour, and hopefully our little guide will be helpful when you do decide to embark on this ride!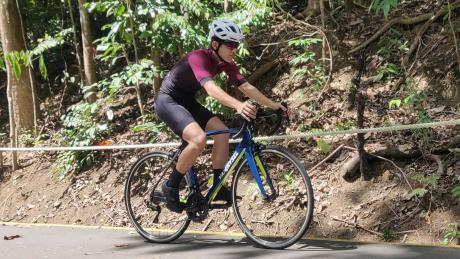 Before you start this activity, you will need the following equipment:
- Bicycle
- Helmet
- Covered shoes
- Cycling shorts (recommended)
- Sunglasses (depending on time of day)

The Shell petrol kiosk along Upper Thomson Road is one of the most popular meetup spots for groups intending to ride the loop together. 
Those in the know, however, will fondly remember the old Longhouse hawker centre just one block down which used to be the original meeting point.
An alternative meet-up spot is the carpark at the MacRitchie reservoir entrance which provides ample parking for those who live far away and intend to drive to the starting point.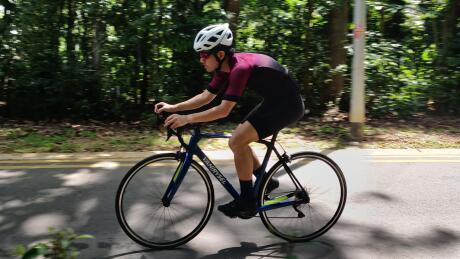 Roughly 2km from the Shell petrol kiosk, watch out for a nondescript left turn into Old Upper Thomson Road.
This hilly area used to be home to kampongs in the late 19th century and the winding road was part of the main artery to the city.
Halfway through, near Casuarina Road, you have the option of continuing on the multi-use Park Connector or the road itself.
As it was in the middle of the day and there were few pedestrians, we decided to take the leisurely option of the PCN.

Upper Seletar Reservoir, Mandai Road
About 1.5km after exiting Old Upper Thomson Road, and past the SLE flyover, turn left onto Mandai Road.
It's a relatively empty road as most vehicles would either have gone onto the expressway or headed north on Sembawang Road.
About a kilometre into Mandai Road, there is a slight climb onto a flyover that spans the SLE.
It brings you by a picturesque view of Upper Seletar Reservoir on your left.
We took the opportunity to have a quick rest and snap a few photos from the lookout point.
Mandai Road to Woodlands Road
Continuing along Mandai Road, it transforms into a 3 lane road and traffic gets a bit heavier, but if you keep to the left (roughly 1.5m from the road shoulder) you'll be fine and most vehicles gave us wide enough berth when passing.
Around 4km after Upper Seletar Reservoir lookout point, we passed the entrance to the Singapore Zoo (and also the T15 Track trailhead which we will cover in an upcoming Sport Advice).
In about 2.5km we arrived at yet another famous Shell petrol kiosk, this one serving as a halfway point for cyclists who need to take a break or fill up their bottles.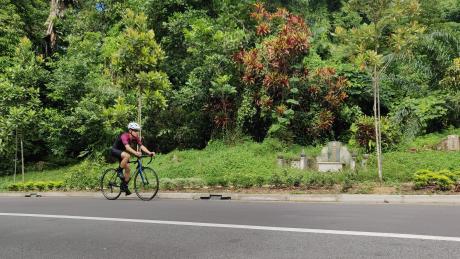 Woodlands Road to Kheam Hock Road via Dunearn Road
After the Shell petrol kiosk, turn left onto Woodlands Road. It's a relatively empty stretch of road save for a few heavy trucks and buses, until you start to approach the Bukit Panjang area.
At this point, you will be right over the Downtown Line and passing by all the stations until roughly 6km later when you turn left onto Dunearn Road.
Continue riding for around 5km, until you pass underneath the Adam Road flyover. At this point, look out for a left turn onto University Road.
It's a quiet ride from here on out as you pass by old bungalows and various landed properties. You will end up at Kheam Hock park, where you'll take a left turn.
Almost immediately you're in a tunnel going under the PIE and soon climbing up Kheam Hock road, passing by a Chinese cemetery just by the roadside. 
Old Lornie Road used to be a bustling artery connecting Bishan to the Bukit Timah area.
Today, it's quite an eerily quiet stretch of road.
It does make for a pleasant ride though, and it's worth noting that the accompanying pavement serves as part of NParks' Coast-to-Coast trail network.
After about 2.2km, you will pass by the aforementioned MacRitchie Reservoir carpark, signalling the last few kms of the loop.
One final left turn onto Upper Thomson Road and 1.5km later, and you're back at the Shell petrol kiosk where you started!
That concludes our guide to the Mandai Loop, and we hope you found it useful! Apart from enjoying the serenity of this cycling route, don't forget to also stay safe and hydrated on this loop. If you enjoyed this guide, click below to explore more similar articles, both on places to explore as well as various cycling-related tips and tricks.
* The prices listed on the site are the prices recommended by DECATHLON SA's central purchasing department.