A Starter's Guide to Exercise Bikes
Exercise bikes are an excellent way to keep in shape indoors. Let's go through our list of useful tips!
While indoor bikes are increasing in demand due to the skyrocketing popularity of 'spinning', it's also great for those who prefer to spend time at home or are too busy to head to the gym. As exercise bikes are oftentimes bigger investments, it's crucial to learn how to properly train on one to maximise your use!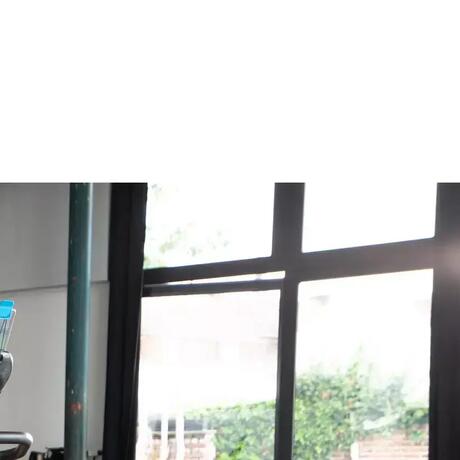 Benefits of an Exercise Bike
- It's exquisite for stamina and endurance. You can build up a healthy heart by extending your training session on an exercise bike. It is also great for strengthening and toning your back, arm and leg muscles
 
- Helps in reducing stress and improving functionality of the brain. Studies have proven that periods spent on the bike helps improve cognitive function, memory and attention. Additional benefits include the release of endorphins, regulation of mood, and a form of des-stressing.
 
- A marvel of weight-loss. Regardless of the intensity of your workout, as long as you are training on an exercise bike, you will have a better result in calorie burning than going for a walk. Also, having routine workouts on an exercise bike also reduces the risk of type 2 diabetes and lowers cholesterol. 
- Superb low impact training. It is well known for using exercise bikes during injury rehabilitation as it helps to strengthen the joints without shock. Therefore, it is a extra gentle workout. 
- It's also astonishingly convenient. What other exercises can help you cover such long distances whilst remaining on the same spot?
Deciding On A Suitable Bike
- Get a seat that can be adjusted vertically and horizontally. Likewise, adjustable handlebars will be of great help in finding a comfortable sitting position on your bike too.
 
- To assure that you have a comfortable pedaling experience, opt for a heavier pedal. A lightweight pedal can often end up feeling unstable as you pedal. Aim for the pedal to be at least 7kg, or even 9kg for more intense and regular sessions. 
 
- Be it manual or digital, ensure that you have an adjustable resistance setting on your bike in order to keep pushing yourself to improve.
 
- This is optional, but having a Bluetooth system on your exercise bike is a major plus point, as it will provide access to tutorials, classes and online apps that track your workouts. 
 
- For those looking to exercise with joint issues or recover from injuries, choose a recumbent bike – it comes in a reclined shape and has full back support, favouring a less intense workout. 
- If you're looking for an intense workout, consider getting an upright bike with a similar shape to an indoor cycle bike. It can be paddled while standing up or sitting and is good for your core and leg muscles.
 
- For those seeking a full-body workout, the dual-action bike has handlebars that move back and forth, mimicking a normal bike the closest.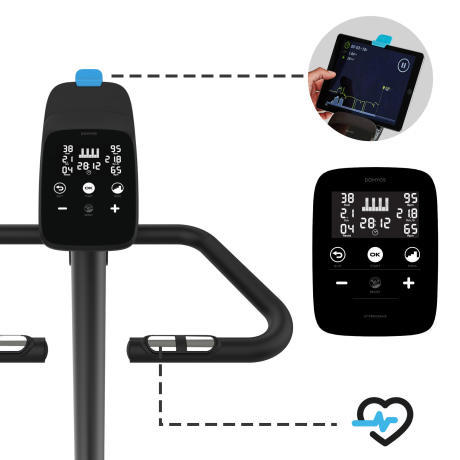 An Exercise Bike Beginner Workout Plan
The most crucial part when starting out on an exercise bike is to take it slowly. By gradually increasing the intensity will assist you better down the road. 
Start off with a gentle 25-35 minutes session by giving this workout a try. 
- Low intensity warm-up: 5 to 10 minutes 
- Switch to Medium Intensity: 5 to 10 minutes
- Increase to High Intensity: 1 to 2 minutes
- Drop to Low Intensity to take a breather: 1 to 2 minutes 
- Switch back to High Intensity: 1 to 2 minutes 
- Lower to Low Intensity: 1 to 2 minutes 
- Back up to High Intensity for the last burst: 1 to 2 minutes
- Cool down with a slow cycle: 10 minutes 
Once you get used to it, add 1 minute to your workout every session.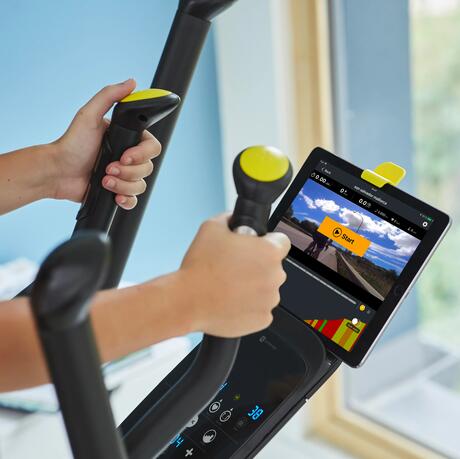 Once you feel like you're ready, it's time to go online and search for classes that will push you to that next level. There are a wide range of classes, so be sure you choose the right class that caters to your ability.
Benefits to having an exercise bike are countless. However, to prevent from getting injuries, it's very important to not push yourself too hard during a session. Here are some recommendations on how to stay safe whilst on the bike:
- Keep a good posture. A poor cycling form may lead to muscle fatigue and injury. If this is something that you're struggling with, seek advice from a personal trainer, or read up on how to correct your posture online.
 
- Do not overdo it. Everyone is ambitious when it comes to new fitness goals, but it's also important to be realistic. We need to understand that targets take time to be achieved.
 
- Take breaks. Moreover, it's better to do shorter and more frequent sessions than long and infrequent ones.
Sport Leader, Decathlon City Square Mall
* The prices listed on the site are the prices recommended by DECATHLON SA's central purchasing department.